Cytology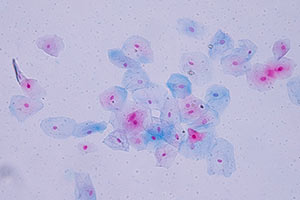 Associates in Pathology, S.C. is a comprehensive, CAP and CLIA accredited cytology laboratory staffed by board-certified pathologists and ASCP certified cytologists. Specimens are evaluated for the diagnosis of malignant, premalignant, or benign conditions.
Our services include:
Fine needle aspirations (FNA) with real-time, on-site adequacy evaluations
Gynecologic (GYN) specimens (ThinPrep Pap smears)
Non-gynecologic (NGC) specimens (body fluids)
Human Papillomavirus (HPV)
Chlamydia Trachomatis (CT)
Neisseria Gonorrhea (NG)
We also provide:
STAT preliminary results available upon request
Adherence to Bethesda criteria (thyroid and GYN cytology)
Correlation of biopsies to Pap smears
Follow-up letters for abnormal GYN cases
Monthly summary of cytology cases available upon request
Supplies available upon request
Results available by phone, fax, mail, or interface
Medical Director: Tracy Cousins, M.D.
Cytology Manager: Holly Buettner, CT(ASCP)cm MB cm